Day trips by coach
Badminton 2017
Take the stress out of the day and let us do the driving! Coach trips to the Cross Country Day of the 2017 event, Saturday 6th May 2017, are available from the following locations at a great value rate of £40 per head. The cost of the Voucher includes coach travel and entry for the day. Children aged 12 Years and under travel at a discounted rate of £10.00 per head. Please click on the links for more information and to purchase tickets.
Brighton
Pick-ups from Brighton Train Station, BN1 3XP at 05.30am and from Beaconsfield Services on the M40 at Junction 2, Beaconsfield HP9 2SE at 07.30am
Chester
Pick-ups from Chester Train Station at 05.20am, from Stafford Services (M6 southbound between Junction14 and 15) at 06.40am and from Strensham Services (M5 southbound between Junction 7 and 8) at 08.00am
Peterborough
Pick-ups from the A1M Junction 17, Peterborough PE7 3UQ at 05.00am, from Huntingdon Train Station,  Brampton Road, Huntingdon, PE29 3BP at 05.30am, from Bedford Train Station, Ashburnham Road, Bedford, MK40 1DR at 06.20am and from MOTO Service Station Junction 12 on M1, Dunstable LU5 6HR at 07.10am
Plymouth
Pickups from Plymouth Train Station at 05.00am, Exeter St Davids Train Station at 06.15am and Taunton Train Station at 07.20am
If you would like to organise your own coach trip to the event please see below for further details.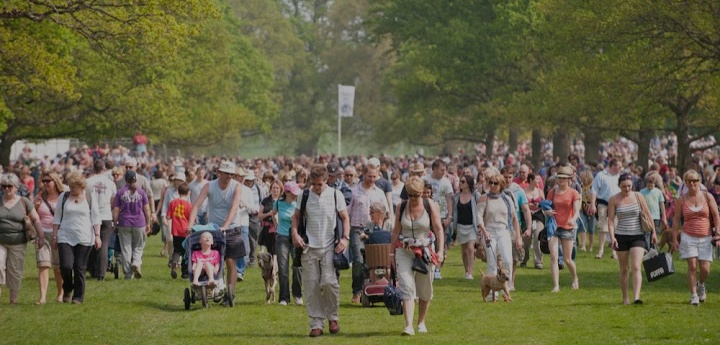 IF YOU ARE COACH COMPANY, ORGANISING A COACH TRIP
COACHES (25 Seater Plus) will be directed to the Coach Park. A Vehicle pass for the Coach and personal admission ticket will be required for all occupants. (No charge for coach drivers). Children 12 years & under free.
Charges in Advance

 Vehicle Pass
 Personal Admission
Wednesday
£10
 £7
Thursday
£10
 £15
Friday
£10
 £15
Saturday
£10
 £28
Sunday
£10
 £14
Season (whole event)
£30
 £55
Charges at Gate
(Cash only)

 Vehicle Pass
 Personal Admission
Wednesday
£12
 £8
Thursday
£12
 £17
Friday
£12
 £17
Saturday
£12
 £30
Sunday
£12
 £16
Season (whole event)
n/a
 n/a
For further information, please contact the Box Office:
Tel: +44 (0)1454 218375
Email: boxoffice@badminton-horse.co.uk