Tickets
2017 Admission
PARKING & ADMISSION CHARGES FOR 2017
Admission for Children 12 years & under free
The price of admission includes the use of unreserved Arena seating only throughout the Dressage days (Thursday and Friday) and the Cross Country day (Saturday). However, in order to watch the Jumping (Sunday) grandstand tickets also need to be purchased for both adults and children. Sunday Grandstand seats usually sell out in advance.
CARS / MINIBUSES / COACHES & PERSONAL ADMISSION
A vehicle pass does NOT include personal admission for the driver (less Coach Drivers – see below).
(Admission for Children 12 years and under free)
ADMISSION CHARGES IN ADVANCE
 Vehicle Pass
 Personal Admission
Wednesday
£10
 £7
Thursday
£10
 £15
Friday
£10
 £15
Saturday
£10
 £28
Sunday
£10
 £14
 Season (whole event)
 £30
 £55
ADMISSION CHARGES AT GATE (CASH ONLY)
 Vehicle Pass
 Personal Admission
Wednesday
£12
 £8
Thursday
£12
 £17
Friday
£12
 £17
Saturday
£12
 £30
Sunday
£12
 £16
 Season (whole event)
 n/a
 n/a
COACHES (25 seater plus)
Coaches will be directed to the Coach Park. A vehicle pass and a personal admission ticket (see prices above) will be required for all occupants. (No charge for coach drivers) Children 12 years & under free. See Coaches for more information.
RESERVED GRANDSTAND SEATING 2017
DRESSAGE – Thursday 4th and Friday 5th May
The majority of seats in the Grandstands for Dressage on Thursday and Friday are unreserved and the use of them is included in the price of personal admission.
Reserved Dressage Seats may be reserved in the West Stand, close to the short end of Dressage Arena at A. Seats will be available from £6.50 – £13.00 – – subject to availability.
See map below for details of prices.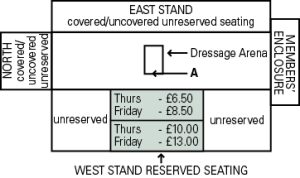 CROSS-COUNTRY – Saturday 6th May
There is no charge for use of the temporary grandstands around the cross-country nor on Saturday for those around the Main Arena where the start, finish and first and last fences will be situated.
SHOW JUMPING – Sunday 7th May
Please note that Grandstand tickets are necessary in addition to car passes and personal admission to watch the jumping.
Covered Grandstand Seats will be available from £13.00 – £40.00 (subject to availability).
Uncovered Tiered Seats will also be available in front of Grandstands at £11.00 (West), £9.00(North) and £9.50 (East). Subject to availability.
See map below for full details.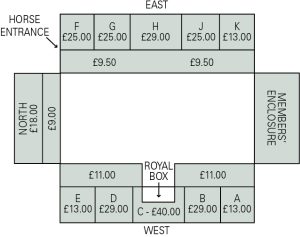 DISABLED VISITORS
For full details of our disabled facilities please click here or contact our Box Office.
HOSPITALITY PACKAGES
Fully Catered Hospitality Packages are available in the Portcullis Club which is adjacent to the Main Arena.
See Hospitality Packages for more details.
For further ticket information contact the Box Office – Tel: +44 (0)1454 218375 Email:boxoffice@badminton-horse.co.uk